Certified Dryer Vent Cleaning Experts Serving New Jersey for Over 30 Years.
It can be quite shocking to see how much lint comes out of a dryer venting system during a professional cleaning. Hesitating to schedule an annual cleaning as soon as possible can lead to highly-dangerous circumstances. Due to lint buildup inside your dryer's venting pipe, there will often be an enormous amount of lint trapped inside it. While it may be hidden away from view, lint buildup is among the most common causes of house fires. Lint is an incredibly flammable material. When it accumulates in large amounts, it can act like a ticking time bomb. In addition to lint blockages in dryer exhaust vents, we deal with blockages caused by small animal nests and insect. Apex Chimney has also seen and fixed many damaged venting systems and improper connections in dryer exhaust vents. If the ventilation system is compromised, the exhaust will not be able to vent to the outside as it should.
If you were to ask a chimney sweep company why they specialize in dryer vent cleaning, they might reply with the following: Dryer vents are very similar to chimneys; the difference is that dryer vents only remove moisture and flammable lint instead of smoke and wood debris. Apex Chimney is a company that offers cleaning and installation of dryer vents. In addition to cleaning the lint trap in your dryer on a regular basis, the dryer vent should also be professionally cleaned once a year. There is a possibility that your dryer's venting system may need to be cleaned when your clothes are taking longer than usual to dry. Our Florida dryer vent cleaning service can take care of your dryer vent needs today by giving us a call.
We've offered services that make your dryer vent the best it can possibly be for many years. Our dryer vent cleaning, installation, and repair services are always available
A better dryer vent route can be implemented. If outdated or non-compliant materials are currently being used, this is especially true. It is also possible to increase dryer efficiency by shortening a dryer hose. Ensure that dryer hoses going through drywall, ceilings, and attics are made of solid galvanized metal and free of screws.
Check the dryer hose, also known as the transition hose – 90% of dryers have the wrong transition hose connected! You'll find a warning label on the back of your dryer warning you not to connect it to a wall with thin foil or vinyl hose. To ensure total safety, we carry the recommended transition hose.
Installation of new dryer vents – Our technicians will determine the best route to install your dryer vent, taking building codes into account, and using only the best quality dryer duct.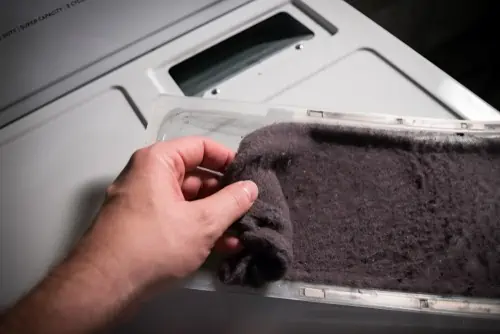 A dryer vent is a crucial part of your home's ventilation system, and if it's not working properly, it can cause a fire. That's why it's important to have a professional dryer vent installation service that you can trust.
Apex Chimney is a leader in dryer vent installation, repair, and maintenance services. Our technicians are highly trained and experienced, and they can help you keep your dryer vent system in top condition.
At Apex Appliance, we pride ourselves as the leader in the New Jersey dryer vent, chimney, and duct cleaning industry by offering old fashion, honest, reliable service. We've been at it for over 30 years now!
See What Our Clients Have to Say
Had a clogged dryer vent, that was noticed when taking me over 2 hours to dry clothes. Scheduled Apex, they were great. On time, so nice and did an outstanding job! Dryer never worked so good! I highly recommend this company.
Great mechanic.Took the time to explain the problem and solution. Thanks
Zach was my technician. He was punctual and professional. I'd recommend his services and will be using apex again in the future.
Great service... The technicians was very courteous and professional, they called me 25 minutes before the arrival to get me enough time to get where I want service very satisfied with their service.definately recommend to friends and family.
Family Owned. Family Friendly. Family Values.