Get A Free Estimate Today
Please fill out the form and we will get back to you shortly.
Had apex appliance come to my home to service my dryer vent and chimney. There customer service was great and i couldn't be more satisfied, I will definitely be using them in the future!


A true professional company. This company was prompt & efficient, customer service was fantastic would definitely refer to all my friends and family.


They just cleaned my chimney. After some confusion Tom explained the situation to me and everything is great! Came within the time frame and did a good job!


The technician was terrific, he was very friendly and he knew what he was doing. He cleaned my dryer duct and also cleaned my dryer out. there was a ton of lint inside of it. Highly recommend this company.
Good service on my parents home, very professional company . Office staff was great setting up the appointment, technician John was great . Thank you . Will be calling again!


These guys are the BEST! Very friendly and they know what they are doing. They cleaned my dryer vent and the inside of my dryer, can't believe what came out. Very nice company to deal with. This was my second time using them, as my home has to have dryer vents cleaned every 2 years.
Dryer Vent Cleaning in Somerville, NJ 08876
Qualities of a Great Dryer Vent Cleaning Service Near Me in Somerville, NJ
When you need a dryer vent cleaning in Somerville, NJ, you can't choose just anyone. While you can do the work yourself, you should always choose a professional if you want the job done right. Without the proper experience and equipment, you can't clean your dryer vent as well as necessary.
Hiring a great dryer cleaning service near me has many benefits, from reducing fire risks to removing allergens. However, how do you find the best dryer vent cleaning company in Somerset County? Apex Air Duct Cleaning and Chimney Services has some tips on finding the right company for you and why cleaning your dryer vent is essential. First, we'll discuss the risks of not cleaning your dryer vent. Then, we'll shed light on the qualities of a great dryer vent cleaning service.
Reduce the Risk of Fires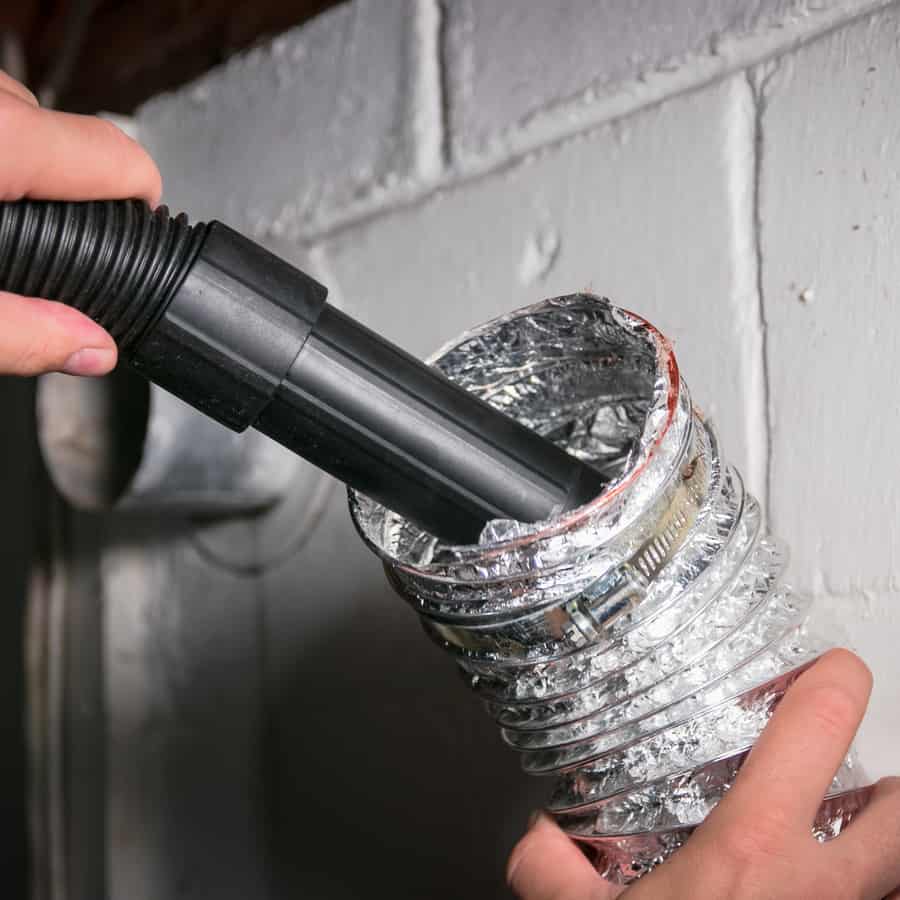 One of the greatest benefits of cleaning your Somerville, NJ dryer vent is you reduce the risk of house fires. After drying your clothes, hot air, moisture, and lint will go through your dryer vent. As more lint enters the duct, it may start to clog the vent. The longer you go without cleaning it, the worse the clog will get.
Lint comes from the fibers on your clothes, and some materials, like cotton and linen, are flammable. The last thing you want to mix in your dryer vent is flammable lint and hot air. When they mix, it may result in a house fire. Many house fires happen in Somerset County, so don't let your house become one of them.
Fewer Breakdowns
When you have obstructions in your dryer vent, it makes it harder for your dryer to work as well as it can. Because of this, you will have to work twice as hard to dry your clothing. Unfortunately, this can cause your dryer to break down faster.
When you search, "Great dryer vent cleaning service near me," you can ensure your dryer doesn't break down. Breakdowns can cost a lot of money to repair, so keeping your dryer in its best shape is essential.
Conserve Energy
Also, your dryer having to work harder will use up more energy. In fact, you may not realize you need a dryer vent cleaning until you notice your electricity bill go up. Since your dryer needs to work harder to dry your clothes, it may also need to run longer. This can cause an unnecessarily high bill.
Reduce the Risk of Carbon Monoxide Poisoning
Many people have heard of carbon monoxide poisoning, but they don't realize how dangerous it is. Some symptoms of carbon monoxide poisoning include dizziness, chest pain, headache, confusion, vomiting, and more. The last thing you want is to fall ill because of something avoidable.
When you have lint clogging your dryer vent, gases like carbon monoxide can't push through. Since this odorless, colorless gas can't leave your home, it can start to accumulate. The more you breathe in the gas, the worse your symptoms will get. Keep yourself and your Somerville, NJ home safe by getting a dryer vent cleaning by Apex Air Duct Cleaning and Chimney Services.
Help Your Dryer Last Longer
As we mentioned, your dryer won't break down as much when you have a clean dryer vent. However, this helps more than breakdowns; it can also help your dryer last longer. When your dryer doesn't break down often, you can ensure it lasts a long time. Dryers are larger investments, so take care of them by cleaning your Somerset County dryer vent.
Remove Odors and Allergens
Finally, the last benefit of getting a dryer vent cleaning is that it can remove odors and allergens from your home. Like with carbon monoxide, your dryer vent can accumulate allergens and musty odors when blocked. When you clean your dryer vent, you will find yourself breathing easier in your home. Filling your laundry room with candles can't help remove the source of the odors. The only way is to clean your dryer vent.
Now that you know the benefits of cleaning your dryer duct, what qualities do you need to look for in a great cleaning company? Start a Google search for "a great dryer vent cleaning service near me" to find a great company.
Ask Family and Friends for Recommendations
Whenever you need a service, you should ask your friends and family for recommendations. Do you know someone who goes to the same company for their dryer duct cleaning every year? If so, ask who they go to. If your loved one continuously chooses the same company, you should consider looking into them.
Read the Reviews
Also, consider looking at reviews online. By looking through positive and negative reviews, you may notice some themes popping up. Pay attention to things that multiple people say. If many people have the same experience, you can assume the reviews are truthful.
Ask if They Have Insurance
Before you decide on a company in Somerville, NJ, ask if they have insurance. This is especially important if your dryer vent exits on your roof. Climbing on your roof is dangerous, and you want to ensure the company is covered in case someone injures themself or damages your roof.
You don't want to be liable if something happens to the workers, so ensure the company has insurance before signing any contracts.
How Much Experience Do They Have?
Experience is important no matter what service you need. Plenty of experience can sometimes mean the difference between a mediocre and a great cleaning job. As well as the company's experience, ask about the employee's experience. If the company has worked for years, that doesn't mean anything if the workers have no experience. So ask about how much the company and employees have worked on dryer vents in Somerset County.
Ensure They Have a Location
Finally, you should ensure that the company has a physical location. If the company you want to work with doesn't list a physical location, only an email address and phone, you should start your search over again. If they don't have a property, that can hint that you may be working with a scam.
It's hard to know how to find a quality dryer vent cleaning service near me, so that's why Apex Air Duct Cleaning and Chimney Services is here to help. Call us at 732-314-7171 today to learn more about all the services we offer.
---
Some information about Somerville, NJ
Somerville is a borough in and the county seat of Somerset County, New Jersey, United States. The borough is located in the heart of the Raritan Valley region within the New York Metropolitan Area. As of the 2010 United States Census, the borough's population was 12,098, reflecting a decline of 325 (-2.6%) from the 12,423 counted in the 2000 Census, which had in turn increased by 791 (+6.8%) from the 11,632 counted in the 1990 Census.
Somerville was settled in colonial times primarily by the Dutch who purchased land from the English proprietors of the colony. The Dutch established their church near what is today Somerville and a Dutch Reformed minister or Domine lived at the Old Dutch Parsonage from about 1754. The early village grew up around a church, courthouse and a tavern built at a crossroads shortly after the American Revolution. The name 'Somerville' was taken from four brothers of the Somerville family, William, Edward, John and James from Drishane and Castlehaven, County Cork, Ireland, who first founded the town in the 1750s. Somerville was originally a sparsely populated farming community, but rapidly grew after the completion of the railroad in the 1840s and development of water power along the Raritan River in the 1850s. Early industry included brick making from the plentiful red clay and shale on which Somerville is built. While much of the borough features distinctive Victorian architecture in several neighborhoods and along its Main Street, other periods are represented. National Register sites in Somerville include the white marble 1909 Somerville Court House and the wooden and stone colonial Wallace House (today a museum) where George Washington spent a winter during the American Revolutionary War. Near the Wallace House is the Old Dutch Parsonage, where Reverend Jacob Rutsen Hardenbergh, a founder and first president of Rutgers University, then called Queens College, lived. Register listed Victorian structures include the James Harper Smith Estate (privately owned), St. John's Episcopal Church and rectory, and the Fire Museum (a vintage fire house). Other notable, register eligible structures are the Victorian train station (privately owned) and the municipal building, the former Robert Mansion.
Originally the center of local commerce, the borough has evolved into a destination for boutique retail and dining. Modern highways today surround and traverse Somerville, including U.S. Route 22, U.S. Route 202, U.S. Route 206 and Route 28 and is within 5 miles (8.0 km) of Interstate 287 and Interstate 78, making it an important hub in central New Jersey.
In 1940, the first competitive bicycle race, called the Tour of Somerville was established by bicycle shop owner, Fred Kugler, to showcase his son, Furman, who was a national cycling champion, and who won the initial men's competition. His daughter, Mildred won the women's. The 50-mile race is held annually and has since become the oldest competitive bicycle race in the U.S. It carries a purse of $10,000 for each winner of the women's and men's races.
Useful links for Somerville, NJ
Directions from Somerville, NJ to Apex Air Duct Cleaning and Chimney Services
---
Here are some cleaning-related links: