Get A Free Estimate Today
Please fill out the form and we will get back to you shortly.
Had apex appliance come to my home to service my dryer vent and chimney. There customer service was great and i couldn't be more satisfied, I will definitely be using them in the future!


A true professional company. This company was prompt & efficient, customer service was fantastic would definitely refer to all my friends and family.


They just cleaned my chimney. After some confusion Tom explained the situation to me and everything is great! Came within the time frame and did a good job!


The technician was terrific, he was very friendly and he knew what he was doing. He cleaned my dryer duct and also cleaned my dryer out. there was a ton of lint inside of it. Highly recommend this company.
Good service on my parents home, very professional company . Office staff was great setting up the appointment, technician John was great . Thank you . Will be calling again!


These guys are the BEST! Very friendly and they know what they are doing. They cleaned my dryer vent and the inside of my dryer, can't believe what came out. Very nice company to deal with. This was my second time using them, as my home has to have dryer vents cleaned every 2 years.
Dryer Vent Cleaning in Somerset, NJ 08873
Qualities of a Great Dryer Vent Cleaning Service Near Me in Somerset, NJ
When you need a dryer vent cleaning in Somerset, NJ, you can't choose just anyone. While you can do the work yourself, you should always choose a professional if you want the job done right. Without the proper experience and equipment, you can't clean your dryer vent as well as necessary.
Hiring a great dryer cleaning service near me has many benefits, from reducing fire risks to removing allergens. However, how do you find the best dryer vent cleaning company in Somerset County? Apex Air Duct Cleaning and Chimney Services has some tips on finding the right company for you and why cleaning your dryer vent is essential. First, we'll discuss the risks of not cleaning your dryer vent. Then, we'll shed light on the qualities of a great dryer vent cleaning service.
Reduce the Risk of Fires
One of the greatest benefits of cleaning your Somerset, NJ dryer vent is you reduce the risk of house fires. After drying your clothes, hot air, moisture, and lint will go through your dryer vent. As more lint enters the duct, it may start to clog the vent. The longer you go without cleaning it, the worse the clog will get.
Lint comes from the fibers on your clothes, and some materials, like cotton and linen, are flammable. The last thing you want to mix in your dryer vent is flammable lint and hot air. When they mix, it may result in a house fire. Many house fires happen in Somerset County, so don't let your house become one of them.
Fewer Breakdowns
When you have obstructions in your dryer vent, it makes it harder for your dryer to work as well as it can. Because of this, you will have to work twice as hard to dry your clothing. Unfortunately, this can cause your dryer to break down faster.
When you search, "Great dryer vent cleaning service near me," you can ensure your dryer doesn't break down. Breakdowns can cost a lot of money to repair, so keeping your dryer in its best shape is essential.
Conserve Energy
Also, your dryer having to work harder will use up more energy. In fact, you may not realize you need a dryer vent cleaning until you notice your electricity bill go up. Since your dryer needs to work harder to dry your clothes, it may also need to run longer. This can cause an unnecessarily high bill.
Reduce the Risk of Carbon Monoxide Poisoning
Many people have heard of carbon monoxide poisoning, but they don't realize how dangerous it is. Some symptoms of carbon monoxide poisoning include dizziness, chest pain, headache, confusion, vomiting, and more. The last thing you want is to fall ill because of something avoidable.
When you have lint clogging your dryer vent, gases like carbon monoxide can't push through. Since this odorless, colorless gas can't leave your home, it can start to accumulate. The more you breathe in the gas, the worse your symptoms will get. Keep yourself and your Somerset, NJ home safe by getting a dryer vent cleaning by Apex Air Duct Cleaning and Chimney Services.
Help Your Dryer Last Longer
As we mentioned, your dryer won't break down as much when you have a clean dryer vent. However, this helps more than breakdowns; it can also help your dryer last longer. When your dryer doesn't break down often, you can ensure it lasts a long time. Dryers are larger investments, so take care of them by cleaning your Somerset County dryer vent.
Remove Odors and Allergens
Finally, the last benefit of getting a dryer vent cleaning is that it can remove odors and allergens from your home. Like with carbon monoxide, your dryer vent can accumulate allergens and musty odors when blocked. When you clean your dryer vent, you will find yourself breathing easier in your home. Filling your laundry room with candles can't help remove the source of the odors. The only way is to clean your dryer vent.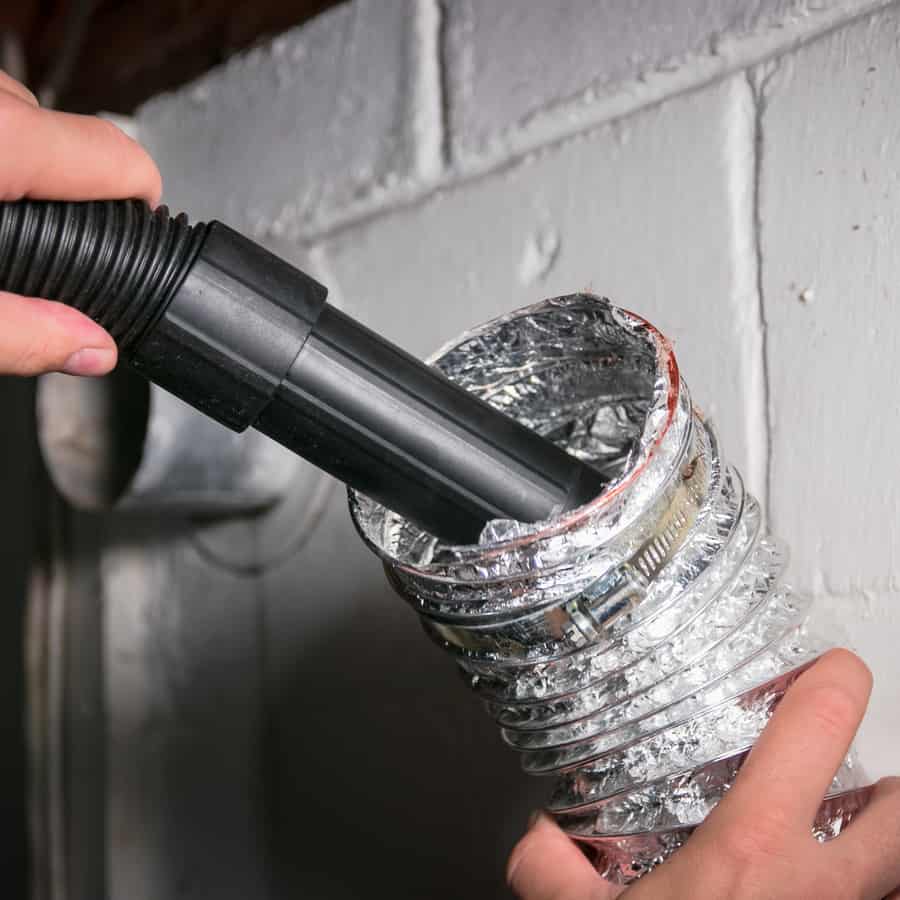 Now that you know the benefits of cleaning your dryer duct, what qualities do you need to look for in a great cleaning company? Start a Google search for "a great dryer vent cleaning service near me" to find a great company.
Ask Family and Friends for Recommendations
Whenever you need a service, you should ask your friends and family for recommendations. Do you know someone who goes to the same company for their dryer duct cleaning every year? If so, ask who they go to. If your loved one continuously chooses the same company, you should consider looking into them.
Read the Reviews
Also, consider looking at reviews online. By looking through positive and negative reviews, you may notice some themes popping up. Pay attention to things that multiple people say. If many people have the same experience, you can assume the reviews are truthful.
Ask if They Have Insurance
Before you decide on a company in Somerset, NJ, ask if they have insurance. This is especially important if your dryer vent exits on your roof. Climbing on your roof is dangerous, and you want to ensure the company is covered in case someone injures themself or damages your roof.
You don't want to be liable if something happens to the workers, so ensure the company has insurance before signing any contracts.
How Much Experience Do They Have?
Experience is important no matter what service you need. Plenty of experience can sometimes mean the difference between a mediocre and a great cleaning job. As well as the company's experience, ask about the employee's experience. If the company has worked for years, that doesn't mean anything if the workers have no experience. So ask about how much the company and employees have worked on dryer vents in Somerset County.
Ensure They Have a Location
Finally, you should ensure that the company has a physical location. If the company you want to work with doesn't list a physical location, only an email address and phone, you should start your search over again. If they don't have a property, that can hint that you may be working with a scam.
It's hard to know how to find a quality dryer vent cleaning service near me, so that's why Apex Air Duct Cleaning and Chimney Services is here to help. Call us at 732-314-7171 today to learn more about all the services we offer.
---
Some information about Somerset, NJ
Somerset is an unincorporated community and census-designated place (CDP) located within Franklin Township, in Somerset County, New Jersey, United States. As of the 2010 United States Census, the CDP's population was 22,083.
New Brunswick Marconi Station was located at JFK Boulevard and Easton Avenue just a few minutes from the New Brunswick border. Today it is the site of Marconi Park. It was an early radio transmitter facility built in 1913 and operated by the Marconi Wireless Telegraph Company of America. After the interruption transatlantic telegraph cables by enemy action, the facility was confiscated by the United States Navy on April 7, 1917, to provide transatlantic communications during World War I. The New Brunswick Naval Radio Station was the principal wartime communication link between the United States and Europe, using the callsign NFF. President Woodrow Wilson's Fourteen Points speech was transmitted from the site in 1918. After the war, ownership of the station, along with Marconi's other US assets, was transferred from the navy to RCA. The antenna masts were demolished in 1952 to make room for what is now a small mall containing a Kmart, but the buildings on the other side of JFK Boulevard were spared. All but one of the brick buildings were demolished around 2004 to make way for a storage locker facility. The bricks and tiles were saved for use in any future restoration of the spared building, and the Marconi facility in Belmar, New Jersey.
The station used a huge 5,000-foot-long (1,500 m) antenna supported by eight 400-foot (120 m) steel masts, similar to the AT&T long wave telephone transmitter at RCA's Rocky Point, Long Island, transmitter facility. During World War I, the original Marconi spark transmitter was replaced with an Alexanderson alternator, the invention of the famous General Electric engineer, with an output power of 200 kilowatts and looking like an ordinary power station generator. Its frequency was around 17 kHz, which made its wavelength around 17,500 meters.
Useful links for Somerset, NJ
Directions from Somerset, NJ to Apex Air Duct Cleaning and Chimney Services
---
Here are some cleaning-related links: