Please fill out the form and we will get back to you shortly.
Had apex appliance come to my home to service my dryer vent and chimney. There customer service was great and i couldn't be more satisfied, I will definitely be using them in the future!


A true professional company. This company was prompt & efficient, customer service was fantastic would definitely refer to all my friends and family.


They just cleaned my chimney. After some confusion Tom explained the situation to me and everything is great! Came within the time frame and did a good job!


The technician was terrific, he was very friendly and he knew what he was doing. He cleaned my dryer duct and also cleaned my dryer out. there was a ton of lint inside of it. Highly recommend this company.
Good service on my parents home, very professional company . Office staff was great setting up the appointment, technician John was great . Thank you . Will be calling again!


These guys are the BEST! Very friendly and they know what they are doing. They cleaned my dryer vent and the inside of my dryer, can't believe what came out. Very nice company to deal with. This was my second time using them, as my home has to have dryer vents cleaned every 2 years.
Chimney Sweeping in Morristown, NJ 07960
Is Your Chimney Company A One-Stop Solution For All Your Need In Morristown, NJ?
More than half of the population in Morris County uses a fireplace in their homes. Wood stoves and other fuel-fired appliances are the primary heat sources in homes.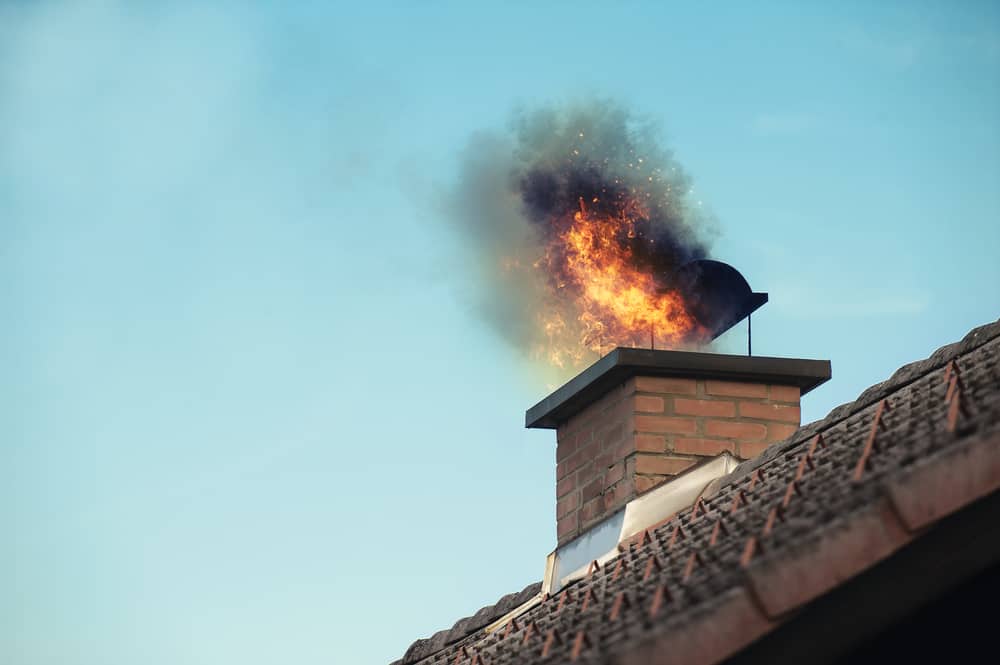 It is found in a report that more than 60% of chimneys in residential homes catch fires in rural areas each year, and the reason behind the fire is creosote buildup in the vents.
It doesn't matter whether you are using wood-burning for fire or any other source; regular heating system maintenance is required for proper and safe functioning. If you plan to hire a chimney sweeping company, make sure it provides all types of benefits associated with chimney.
Services You Must Look For While Hiring Chimney Company
Apex Air Duct Cleaning and Chimney Services is a chimney company in Morristown, NJ that provides all types of chimney services, including cleaning, inspection, repairing, maintenance, and even a level 2 inspection for the factory-built fireplace. Now check if your chimney company provides the following services, making it a one-stop solution.
1) chimney sweeping: The new era has brought a safer and more civilized approach to repairing and cleaning chimneys. However, the requirement for professional chimney sweeps hasn't changed.
With over 30+ years of expertise in the chimney sweeping service and maintenance field, Apex Air Duct Cleaning and Chimney Services is pleased to offer effective chimney sweep services to people across Morristown, NJ.
2) Chimney Obstruction (Animal Removal): Your chimney serves as a funnel to let the smoke from your fireplace away from your house. However, your chimney flue liner also provides additional support that keeps it running safely and effectively.
Many homeowners might not know about their chimney's liner or if they own one, but it's vital in limiting heat transfer and keeping the structural integrity.
Plan an inspection and cleaning of your chimney with Apex Air Duct Cleaning and Chimney Services today! Sometimes, the chimney becomes a home for animals, so removing the animals or any other obstruction from the chimney is essential. If you face such an issue, choose Apex Air Duct Cleaning and Chimney Services chimney sweeps located in Morristown.
3) Chimney & Fireplace Safety Inspection: Regular chimney inspections are a great way to discover potential hazards like blockages in the chimney and flue liner, which can cause a chimney fire or carbon monoxide poisoning.
Apex Air Duct Cleaning and Chimney Services conducts internal and external chimney inspections performed by trained technicians to ensure that the chimney is in good condition. Our professionals will tackle any chimney repair if your chimney has any problems.
4) Chimney Repair & Gas Fireplace Repairs Services: We know how important it is to use the fireplace within your home, but the finest and most robust products can fail through the years of exposure to the heat.
Fortunately, Apex Air Duct Cleaning and Chimney Services has over 30+ years of experience repairing, servicing, and maintaining chimneys throughout New Jersey. Our experts will spend the time to inspect your chimney and fireplace and offer the best services for you. Don't let a possibly defective chimney cause your home to be at risk; call us today at 732-314-7171
5) Venting System Maintenance & Chimney Leaks: Regular chimney maintenance provides you with peace of assurance regarding the security of your home. For many years, certified chimney sweeps from Apex Air Duct Cleaning and Chimney Services in Morris County have been working with people from Morristown to ensure their chimneys function correctly and conform to the current safety standards.
Every year, a chimney inspection and cleaning can ensure that your chimney is unaffected by damages and ready to use during the colder months throughout the entire year.
Sometimes, water may enter through the chimney, leading to damage to the flue, so it's essential to repair chimney leaks. Additionally, it will prevent animals from taking their place, which would most likely lead to a chimney repair in the future.
Contact Apex Air Duct Cleaning and Chimney Services – A Chimney Company For All Chimney Sweeping Services
According to the Chimney Safety Institute of America, it is recommended to clean your chimney and fireplace at least twice a year. If you ignore the chimney and fireplace cleaning in Morris County, it will be hazardous for you. Therefore, if you are looking for a Chimney Company in Morristown, Apex Air Duct Cleaning and Chimney Services is the perfect solution.
We are committed to serving the residents of Morristown, NJ a safe and clean environment for their home by ensuring the cleanliness of the chimney and fireplace.
Call us at 732-314-7171 and get assistance for all your chimney-related needs with the best chimney company in NJ! Apex Air Duct Cleaning and Chimney Services in Morristown, NJ is the chimney company providing a one-stop solution for all your needs. We are a full-service provider for all your chimney needs, including chimney sweep, repair, inspection, liner installation, and much more.
---
Some information about Morristown, NJ
Morristown is a town and the county seat of Morris County, New Jersey, United States. Morristown has been called 'the military capital of the American Revolution' because of its strategic role in the war for independence from Great Britain. Today this history is visible in a variety of locations throughout the town that collectively make up Morristown National Historical Park.
The area was inhabited by the Lenni Lenape Native Americans for up to 6,000 years prior to exploration of Europeans. The first European settlements in this portion of New Jersey were established by the Swedes and Dutch in the early 17th century, when a significant trade in furs existed between the natives and the Europeans at temporary posts. It became part of the Dutch colony of New Netherland, but the English seized control of the region in 1664, which was granted to Sir George Carteret and John Berkeley, 1st Baron Berkeley of Stratton, as the Province of New Jersey.
Morristown was settled around 1715 by English Presbyterians from Southold, New York on Long Island and New Haven, Connecticut as the village of New Hanover. The town's central location and road connections led to its selection as the seat of the new Morris County shortly after its separation from Hunterdon County on March 15, 1739. The village and county were named for Lewis Morris, the first and then sitting royal governor of a united colony of New Jersey.
By the middle of the 18th century, Morristown had 250 residents, with two churches, a courthouse, two taverns, two schools, several stores, and numerous mills and farms nearby.
Useful links for Morristown, NJ
Directions from Morristown, NJ to Apex Air Duct Cleaning and Chimney Services
---
Here are some cleaning-related links: