Get A Free Estimate Today
Please fill out the form and we will get back to you shortly.
Had apex appliance come to my home to service my dryer vent and chimney. There customer service was great and i couldn't be more satisfied, I will definitely be using them in the future!


A true professional company. This company was prompt & efficient, customer service was fantastic would definitely refer to all my friends and family.


They just cleaned my chimney. After some confusion Tom explained the situation to me and everything is great! Came within the time frame and did a good job!


The technician was terrific, he was very friendly and he knew what he was doing. He cleaned my dryer duct and also cleaned my dryer out. there was a ton of lint inside of it. Highly recommend this company.
Good service on my parents home, very professional company . Office staff was great setting up the appointment, technician John was great . Thank you . Will be calling again!


These guys are the BEST! Very friendly and they know what they are doing. They cleaned my dryer vent and the inside of my dryer, can't believe what came out. Very nice company to deal with. This was my second time using them, as my home has to have dryer vents cleaned every 2 years.
Air Duct Cleaning In Woodbridge
"Cleaning Vents": The Importance of Woodbridge, NJ Air Duct Cleaning for Your Middlesex County Business
Are you a Middlesex County homeowner or business owner? Are you looking for a Woodbridge, NJ air duct cleaning professional for your HVAC system? While you could search online for "duct cleaning services near me" or "cleaning vents near me" and hope you'll find someone reputable to go through the duct cleaning process, instead of going through the hassle, get in touch with a company that you know you can rely on: Apex Air Duct Cleaning and Chimney.
With more than 46 years of experience by are professional duct cleaning experts and a proven track record of quality services are cleaning company made of professionally trained, fully licensed and insured duct cleaning technicians have the knowledge and skill you can rely on to increase the efficiency and improve the indoor air quality of your home or business, and reduce your utility expenses, too. If "clean dry duct" is on your list of things to do, for the best results possible, contact the pros at Apex Air Duct Cleaning and Chimney.
Why "Cleaning Vents" Needs to Be a Top Priority for Your Middlesex County Business
Greater Indoor Air Quality
The air within your business circulates through the ventilation system of your heating air conditioning and cooling system multiple times a day. Dirt, debris, pollen, dust, mold, and various other irritants and allergens can settle and accumulate inside of the ductwork that your HVAC system uses to distribute heated and cooled air throughout your place of business.
Removing this debris from your air ducts and air filter will not only provide better air quality but will also get rid of any odors from these harmful elements and improve the lifespan of your air duct system.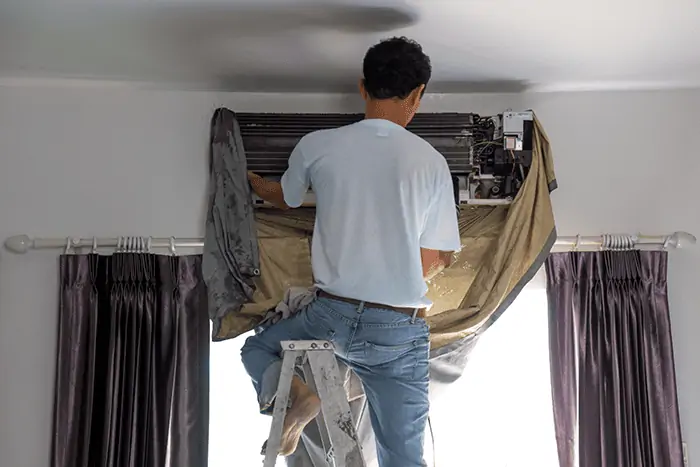 Improved Employee Efficiency
According to experts, workplace cleanliness is one of the best things an employer can do to maintain the health and happiness of their employees. You can't expect your staff to thrive if their work environment is cluttered and dirty. Not only will they feel uncomfortable, but their health can suffer, and when a work environment is uncomfortable and unhealthy, employee productivity can suffer.
Routine vent cleaning performed by a licensed, insured, and experienced professional will promote a cleaner, healthier work environment. Your employees will feel happier and they'll be healthier, and when your employees are happier and healthier, they'll take fewer sick days, and their productivity will increase.
Reduces Expenses
Business owners want to keep their operational expenses as low as possible. In order to achieve that goal, the logical thing to do is to cut unnecessary expenses, and unfortunately, duct cleaning is often one of the things that they eliminate or that they never add to their list of things to address. In reality, however, professional Woodbridge, NJ air duct cleaning can actually help to reduce your expenses. Duct cleaning reduces the amount of debris buildup in your air ducts, which increases airflow and the overall efficiency of your force air system.
Increased Success
As a business owner, it goes without saying that you want to be as successful as possible. While it might not seem like it, believe it or not, duct cleaning can help to increase the overall success of your Middlesex County business. When you consider the fact that it can enhance your company's indoor air quality, it will improve employee productivity, and it can reduce your operational expenses, hiring a reputable company that specializes in Woodbridge, NJ air duct cleaning can directly impact the success of your business in a positive way.