Get A Free Estimate Today
Please fill out the form and we will get back to you shortly.
Had apex appliance come to my home to service my dryer vent and chimney. There customer service was great and i couldn't be more satisfied, I will definitely be using them in the future!


A true professional company. This company was prompt & efficient, customer service was fantastic would definitely refer to all my friends and family.


They just cleaned my chimney. After some confusion Tom explained the situation to me and everything is great! Came within the time frame and did a good job!


The technician was terrific, he was very friendly and he knew what he was doing. He cleaned my dryer duct and also cleaned my dryer out. there was a ton of lint inside of it. Highly recommend this company.
Good service on my parents home, very professional company . Office staff was great setting up the appointment, technician John was great . Thank you . Will be calling again!


These guys are the BEST! Very friendly and they know what they are doing. They cleaned my dryer vent and the inside of my dryer, can't believe what came out. Very nice company to deal with. This was my second time using them, as my home has to have dryer vents cleaned every 2 years.
Air Duct Cleaning in Palmyra, NJ 08065
4 Reasons Why Regular Air Duct Cleaning is So Important for Your Palmyra, NJ Home
For more than 40 years, Burlington County homeowners have been relying on Apex Air Duct Cleaning and Chimney Services for all of their air duct cleaning needs. What began as a one-man operation in 1975 has blossomed into the most reliable Palmyra, NJ air duct cleaning company. The technicians at our locally owned and operated, fully licensed and insured company are certified by the Chimney Safety Institute of America (CSIA) and adhere to the stringent duct cleaning standards that have been established by the National Air Duct Cleaners Association (NADCA). Using the most advanced technologies and proven techniques, we'll make sure that your air ducts are thoroughly cleaned and that your HVAC system is running as safely and efficiently as possible. For the most reliable, efficient, and affordable duct cleaning services in Burlington County, look no further than Apex Air Duct Cleaning and Chimney Services.
Why You Should Invest in Routine Duct Cleaning Services for Your Palmyra, NJ Home
Of all the systems appliances and systems in your home, the HVAC system is one of the most important. It keeps you cool in the summer, warm in the winter, and keeps the air circulating all year long. In other words, the HVAC system maintains the comfort of your Burlington County home – and everyone inside of it.
Since it runs pretty much year-round, your home's HVAC system takes a serious beating; particularly the ductwork. The air ducts are to a heating and cooling system what the lungs are to your respiratory system. Just like your lungs, in order for your HVAC system to breathe properly and function at peak performance, the ductwork needs to be opened and clear. Because air is constantly running through them, however, a lot of dirt and debris can accumulate inside of the air ducts, and the components can experience serious wear and tear. How do you combat the buildup of dirt and debris, and the damages that constant use can cause? With regular duct cleaning services from a reputable professional, of course!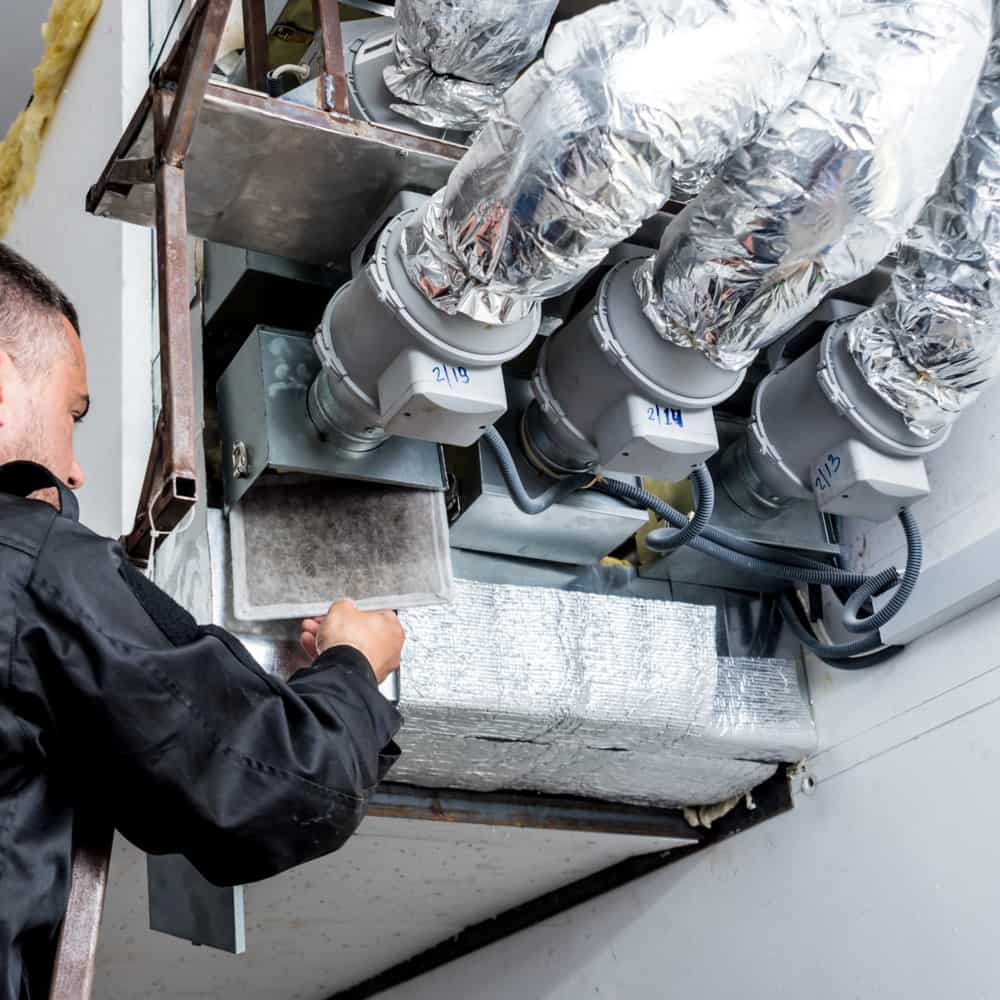 Here's a look at just some of the biggest reasons why hiring a Palmyra, NJ air duct cleaning company is so important.
A Healthier Home
Did you know that an estimated 40 pounds of dirt, dust, and allergens collect inside the average home each year? It's true! Each time your HVAC turns on, small pieces of that debris get sucked up into the air ducts, circulate throughout your home, and pollute the air that you and your family breathe with irritants, such as dust mites. According to the American Lung Association, these microscopic, bug-like pests produce some of the most common allergens. Chronic exposure to dust mites over a prolonged period of time can cause serious adverse health effects on individuals who suffer from asthma, as well as those who are allergic to or sensitive to these pests. Other allergens can circulate throughout the air that pushes through your air ducts, too.
Routine air duct cleaning is one of the most effective ways to minimize the number of dust mites and allergens that you and your family are exposed to. A reputable Palmyra, NJ air duct cleaning company will thoroughly clean the ductwork, change the filters, and will inspect the air ducts to ensure that they are functioning properly. In other words, regular duct cleaning will significantly improve the indoor air quality and the health of your Burlington County home.
A Cleaner Environment
Air quality isn't the only thing that dirty air ducts will negatively impact; they negatively impact the cleanliness of your home, too. Whenever your HVAC system kicks on, the dirt, debris, and dust that accumulates in the ductwork loosens blows through the vents, and lands on the surfaces throughout your Burlington County house. As you can imagine, as that gunk builds up on countertops, shelves, tables, floors, furniture, linens, and more, your Burlington County home will look and feel dirty and dingy. Keeping up with all of that buildup will require a lot more cleaning.
Regular duct cleaning services performed by a reliable and experienced Palmyra, NJ air duct cleaning professional will make your home more sanitary. A reputable technician will use the most advanced tools and equipment, combined with proven techniques and strategies, to remove the built-up debris along with the interior of the ductwork. As a result, your Burlington County home will look and feel a lot cleaner.
Improved Scent
After being out for a while, when you return home, does a moldy, musty, or stale odor greet you? Do you notice unpleasant scents that turn your nose up whenever the AC or heat clicks on? Either way, dirty air ducts could be the source of the problem.
Dirt, debris, and dust that collect in your air ducts contain tiny odor-causing particles, and those odors can come from a variety of sources, such as food, smoke, pets, and dirty laundry. Whenever your HVAC turns on, those odor-causing particles will be stirred up and will blow out of the vents, creating an unpleasant aroma in your Burlington County home. Regular duct cleaning services performed by a Palmyra, NJ air duct cleaning professional will help to make your house smell a whole lot fresher.
Enhanced Efficiency
As the gunk that accumulates on the interior of your ductwork becomes thicker, circulation will be reduced, and as a result, your HVAC system will need to work harder in order to maintain the temperature of your Burlington County home. The harder the system works, the more energy it has to use. The more energy your heating and cooling system uses, your utility bills – and your wallet – will suffer.
To improve the efficiency of your HVAC system to maintain the comfort of your Burlington County home, regular air duct cleaning is a must. A credible Palmyra, NJ air duct cleaning technician will eliminate the buildup of debris, which will reduce the strain on the system, and the amount of energy the system will need to use. It's estimated that routine duct cleaning can improve the efficiency of a heating, ventilation, and air conditioning system by as much as 35%.
Looking for Efficient, Reliable, and Affordable Duct Cleaning Services in Burlington County?
To improve the efficiency, health, cleanliness, comfort, and even the aroma of your Burlington County home, contact the leading Palmyra, NJ air duct cleaning company: Apex Air Duct Cleaning and Chimney Services. With more than 40 years of experience under our belts and dozens of satisfied clients, you can count on our CSIA-, C-DET-certified technicians to deliver outstanding results. To learn more or to schedule an appointment, drop us a line right through our website, or give us a call at 732-314-7171. However you get in touch with us, our team of knowledgeable and friendly professionals are standing by and are ready to assist you with all of your duct cleaning needs.
---
Some information about Palmyra, NJ
Palmyra is a borough in Burlington County, New Jersey, United States. As of the 2010 United States Census, the borough's population was 7,398, reflecting an increase of 307 (+4.3%) from the 7,091 counted in the 2000 Census, which had in turn increased by 35 (+0.5%) from the 7,056 counted in the 1990 Census.
The area that is now Palmyra was settled in the late 17th century by Swedes, marking the northernmost border of New Sweden. A farmhouse built in 1761 by the third generation settlers still remains as the oldest house in Palmyra. Farming was the primary use of land in Palmyra and the surrounding area until after the construction of the Camden and Amboy Railroad in 1834 with a station in the area, after which railroad workers built homes on lots they purchased along the railroad right of way. The community was originally known as Texas, but a local landowner, Isaiah Toy, a descendant of the original Swedish settlers and a stockholder in the Camden and Amboy Railroad, who wanted to have a post office established in the community, convinced the railroad to change the name of the station in 1849 to Palmyra, which came from his love of ancient history. Palmyra was the name of an ancient trading center located in central Syria. The post office was established in 1851. Palmyra, along with Bordentown, Burlington, Moorestown Township, and Mount Holly Township, established its high school in the late 1890s, making it one of the oldest high schools in Burlington County and in New Jersey.
The community was laid out in 1850, when Joseph Souder's land was broken up into building lots to pay his debts, with the street names matching those of – Market, Arch, Race, and Vine (from south to north), and Front Street and numbered streets from the Delaware River. What is now Palmyra was part of Chester Township (now Maple Shade Township), which was created in 1694 and was one of the original 104 townships in New Jersey incorporated in 1798. Palmyra became a part of Cinnaminson Township when that township was set off from Chester in 1860. Palmyra Township was set off from Cinnaminson in 1894, and Palmyra was incorporated as a borough in 1923.
Useful links for Palmyra, NJ
Directions from Palmyra, NJ to Apex Air Duct Cleaning and Chimney Services
---
Here are some cleaning-related links: