Get A Free Estimate Today
Please fill out the form and we will get back to you shortly.
Had apex appliance come to my home to service my dryer vent and chimney. There customer service was great and i couldn't be more satisfied, I will definitely be using them in the future!


A true professional company. This company was prompt & efficient, customer service was fantastic would definitely refer to all my friends and family.


They just cleaned my chimney. After some confusion Tom explained the situation to me and everything is great! Came within the time frame and did a good job!


The technician was terrific, he was very friendly and he knew what he was doing. He cleaned my dryer duct and also cleaned my dryer out. there was a ton of lint inside of it. Highly recommend this company.
Good service on my parents home, very professional company . Office staff was great setting up the appointment, technician John was great . Thank you . Will be calling again!


These guys are the BEST! Very friendly and they know what they are doing. They cleaned my dryer vent and the inside of my dryer, can't believe what came out. Very nice company to deal with. This was my second time using them, as my home has to have dryer vents cleaned every 2 years.
Air Duct Cleaning in Haledon, NJ 07508
4 Signs You Need to Schedule an Appointment with a Haledon, NJ Company That Specializes in Air Duct Cleaning Near You
If you're trying to find a company that offers efficient, reliable, and affordable air duct cleaning near you, contact the leading Haledon, NJ air duct cleaning professionals: Apex Air Duct Cleaning and Chimney Services. With more than 40 years of experience and a proven track record of success, we're the first company that Passaic County homeowners call when they need their air ducts cleaned. Our team of professionally trained and highly skilled technicians are certified by the Chimney Safety Institute of America (CSIA) and adhere to the rigorous standards that have been established by the National Air Duct Cleaners Association (NADCA). We use the most state-of-the-art technologies, cutting-edge techniques, and proven strategies, and we always go the extra mile to ensure exceptional results. When you're looking for a reputable Haledon, NJ air duct cleaning company, don't waste your time searching online for "air duct cleaning near me" hoping you'll find someone reliable. Instead, contact a company that you can count on to deliver: Apex Air Duct Cleaning and Chimney Services.
Signs You Should Contact a Haledon, NJ Air Duct Cleaning Professional
There's nothing more satisfying than a clean house. When everything is in its place, the floors, furniture, fixtures, finishes, and even the baseboards are spick-and-span, you can't help but feel good; not just because the space looks neat and tidy, but because a clean house is a healthy home. But while you work hard to keep everything clean, neat, and in order, there may be some crucial areas that you're missing; areas that you can't see, and that can have a direct impact on the overall cleanliness and healthiness of your Passaic County home. For many homeowners, air ducts are one of the most overlooked areas.
Air ducts are a vital component of your home's heating and cooling system. They circulate the indoor air and the conditioned (heated and cooled) air that the HVAC system produces throughout your Passaic County home. As the air cycles through the system and ducts, tiny particles, such as pet dander, dust mites, and various other types of minuscule bits of dirt and debris that float throughout the air get trapped inside the ductwork. Over time, those contaminants build up, and eventually, the ductwork needs to be cleaned.
In order to maintain the efficiency and safety of your HVAC system, as well as the comfort and safety of your home, investing in regular air duct cleaning is a must. Since the ductwork is hidden, however, it's isn't the first thing that comes to mind when you're cleaning your house. So how do you know when it's time to contact a Haledon, NJ air duct cleaning professional? Here's a look at five telltale signs that indicate it's time to schedule an appointment with a company that offers air duct cleaning near you.
Your Utility Bills Have Increased
The cost of energy fluctuates on a constant basis, and utility bills vary throughout the year (they're higher in the winter and summer, for example). However, if it seems like your heating and cooling costs have gone through the roof even though you haven't been using your HVAC system any more than usual, and there haven't been any marked increases in energy prices overall, dirty ductwork could be to blame.
As dirt and debris build-up on the interior of the ductwork, airflow decreases, and when that happens, your HVAC system has to work harder to maintain the temperature of your Passaic County home. The harder the system works, the more energy it will use, and the more energy it uses, the higher your utility bills will be. A reputable Haledon, NJ air duct cleaning professional will thoroughly clean the air ducts, as well as the air filters, and will make sure that everything is functioning properly, which will reduce the strain on your heating and cooling system, and in turn, will lower your utility bills.
You Smell Strange Odors
Do unpleasant odors greet you when you open the front door? Do you notice an odd aroma blowing out of the vents every time the HVAC system kicks on? Whether the smell is pungent or mild, if it's off-putting and constant, you should think about scheduling an appointment with a company that offers air duct cleaning near you.
In addition to dirt and debris, tiny odor-causing particles get trapped inside air ducts. Examples of some of the aromas that can get trapped in ductwork include food, dirty laundry, sweaty gym shoes, paint, or smoke; you might also notice a musty, moldy, stale scent. When the system kicks on, those odor-causing particles will be loosened and distributed throughout the air, leaving your Passaic County home smelling funky. A reliable Haledon, NJ air duct cleaning technician will eliminate those unpleasant aromas and will restore the freshness of your house.
Never-Ending Cleaning
Does it seem like no matter how often you clean, your house just doesn't seem, well, clean? You wipe down the countertops, tables, shelves, and baseboards, and you vacuum, sweep, and mop the floors on a constant basis, and almost as soon as you're done, you turn around and everything seems to be coated with a film of dust and dirt again. If this situation sounds familiar to you, your cleaning skills probably aren't to blame, but rather the ductwork of your HVAC system may be the cause.
Small particles that collect on the inside of the air ducts are loosened when the heating and cooling system clicks on. Those particles will blow through the vents, and they'll land on the surfaces throughout your Passaic County home. A credible Haledon, NJ air duct cleaning professional will remove all of that caked-up dirt and debris, which will help to keep your home cleaner for longer.
You're Experiencing Allergies and Breathing Issues
Do you or a loved one suffer from allergies, asthma, or COPD? Does it seem like the symptoms that are associated with the condition are worse whenever you're in the house, and they subside when you leave? If so, chances are your air ducts need to be cleaned.
Airborne pollutants and pathogens trapped in the ductwork will be loosened when your heating and cooling system kicks on, they'll circulate through the air, and you or your loved ones will breathe them in. As you can imagine, breathing in those pollutants can aggravate pre-existing allergies and respiratory conditions, and can even spark new illnesses in otherwise healthy people.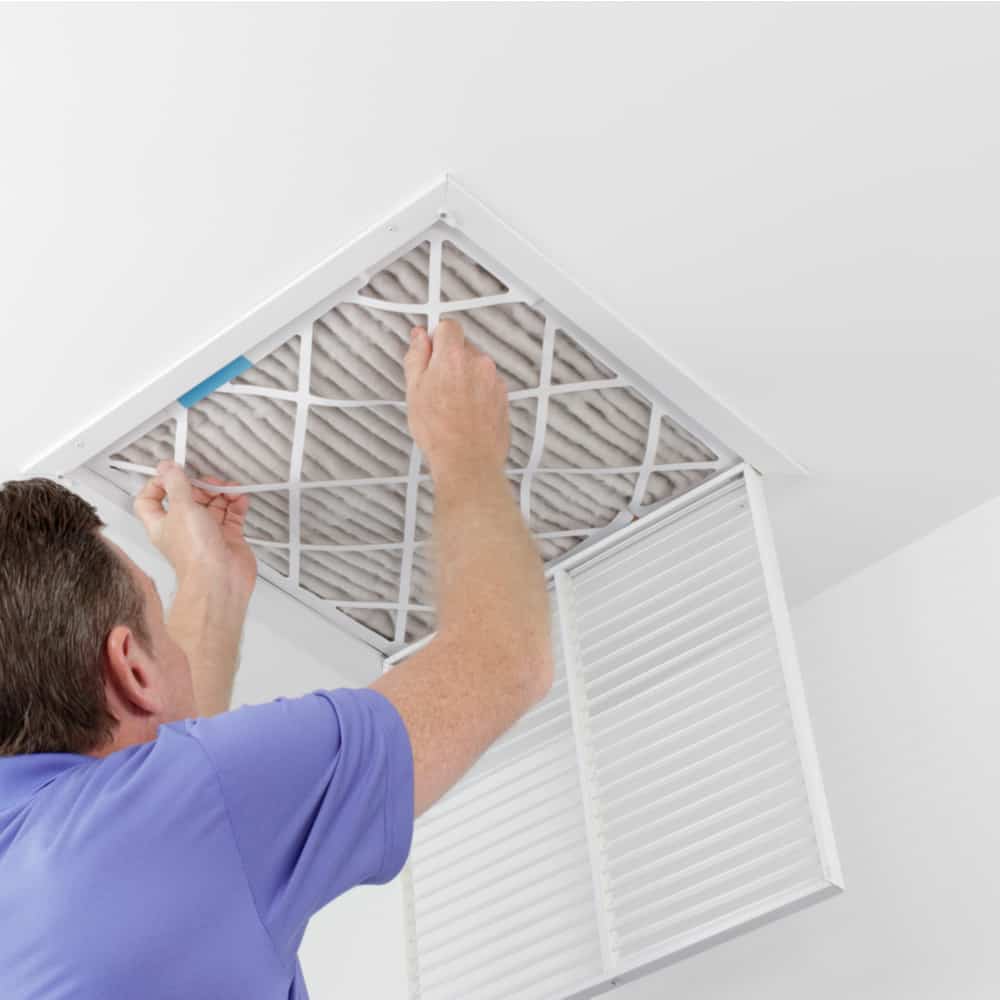 If you've noticed that you and/or your loved ones seem to feel under the weather whenever you're home, it's definitely time to get in touch with a company that specializes in air duct cleaning near you. A reliable professional will rid the ductwork of those pathogens, making your house a healthier home.
Looking for Efficient, Reliable, and Affordable Haledon, NJ Air Duct Cleaning Services?
If you're experiencing any of the above-mentioned issues – or you're having any other problems that you suspect are linked to your ductwork – when you're looking for a company that offers premium-quality air duct cleaning near you, contact Apex Air Duct Cleaning and Chimney Services. To learn more about our duct cleaning services, to request a free consultation, or to book an appointment, call 732-314-7171 today!
---
Some information about Haledon, NJ
Haledon is a borough in Passaic County, New Jersey, United States. As of the 2010 United States Census, the borough's population was 8,318, reflecting an increase of 66 (+0.8%) from the 8,252 counted in the 2000 Census, which had in turn increased by 1,301 (+18.7%) from the 6,951 counted in the 1990 Census.
Haledon developed along the northern side of the industrial city of Paterson, New Jersey. It was settled by farmers with colonial Dutch heritage including the Van Riper, Berdan, Banta, Post and Zabriskie families. Prior to the Civil War they were joined by the Roe, Leonhard and Stansfield families, who helped establish St. Mary's Episcopal Church and leading businesses including a general store and the Leonhard Wax Company.
The area became a streetcar suburb of Paterson in the years following the Civil War, with the central area known as Haledon, while the area surrounding the large pond along High Mountain Road was called Oldham. The Paterson and Haledon Horse Rail Road Company, formed in 1871, laid trolley tracks from Paterson along the current-day Belmont Avenue, which were electrified by 1888. Many of the trolley company's owners were among the founders of the Cedar Cliff Land Company, which bought up large portions of the area, and the street names in the borough reflect these industrialists and businessmen: Morrissee, Hoxey, Van Dyke, John Ryle and Barbour. The flat, lower part of the community was laid out in city-sized lots of 25′ by 100′ while the hillsides were plated as sites for larger Victorian 'villas' for such individuals as Vice President Garret A. Hobart (now the location of William Paterson University) and the Barbour family of linen flax manufacturers. Haledon's villa development was always rather limited and throughout much of the 20th century Haledon was a typical blue-collar community set by the small property sizes planned by the Cedar Cliff Land Company. A never-constructed grand hotel was planned for the highest point of the community above the intersection of the current day Central and West Haledon Avenues. The Cedar Cliff Land Company ran newspaper advertisements targeted at upwardly mobile immigrants who worked in Paterson's silk industry, offering the city-sized lots for sale at auctions (with free lunches and brass bands) held at St. Mary's Parish Hall, and also opened the Cedar Cliff Silk Mill, which became one of several silk mills in the community. The residential appeal of Haledon was to escape the crowded industrial city and still have access to the textile mills by using the trolley. As a result of the land sales of Cedar Cliff Land Company and also of independent landowner William Bushmann, the town was settled by immigrants who came as skilled workers from textile centers in Europe.
Haledon was incorporated in 1908, having been the Oldham district of the former Passaic County municipality of Manchester Township.
Useful links for Haledon, NJ
Directions from Haledon, NJ to Apex Air Duct Cleaning and Chimney Services
---
Here are some cleaning-related links: