Get A Free Estimate Today
Please fill out the form and we will get back to you shortly.
Had apex appliance come to my home to service my dryer vent and chimney. There customer service was great and i couldn't be more satisfied, I will definitely be using them in the future!


A true professional company. This company was prompt & efficient, customer service was fantastic would definitely refer to all my friends and family.


They just cleaned my chimney. After some confusion Tom explained the situation to me and everything is great! Came within the time frame and did a good job!


The technician was terrific, he was very friendly and he knew what he was doing. He cleaned my dryer duct and also cleaned my dryer out. there was a ton of lint inside of it. Highly recommend this company.
Good service on my parents home, very professional company . Office staff was great setting up the appointment, technician John was great . Thank you . Will be calling again!


These guys are the BEST! Very friendly and they know what they are doing. They cleaned my dryer vent and the inside of my dryer, can't believe what came out. Very nice company to deal with. This was my second time using them, as my home has to have dryer vents cleaned every 2 years.
Chimney Cleaning in Bayonne, NJ 07002
Top Factors to Consider When Looking for Companies that Specialize in Chimney Cleaning Near You in Bayonne, NJ
Does your chimney need to be cleaned and inspected? Have you been searching for companies that specialize in chimney cleaning near you but you've been less-than-impressed by the options you've found? If so, then you've come to the right place! Apex Air Duct Cleaning and Chimney Services is a premier Bayonne, NJ chimney cleaning company that has been ensuring the safety of Hudson County homes for more than 40 years with top-rated chimney cleaning services. Using the most advanced techniques, proven strategies, and state-of-the-art tools and equipment, our professionally trained technicians will make sure that your chimney is thoroughly cleaned and properly functioning. Instead of wasting your time searching for "chimney cleaning near me" online, get in touch with Apex Air Duct Cleaning and Chimney Services. When our team is one the job, you can feel confident knowing that you will receive outstanding results.
Features to Look for in a Bayonne, NJ Chimney Cleaning Company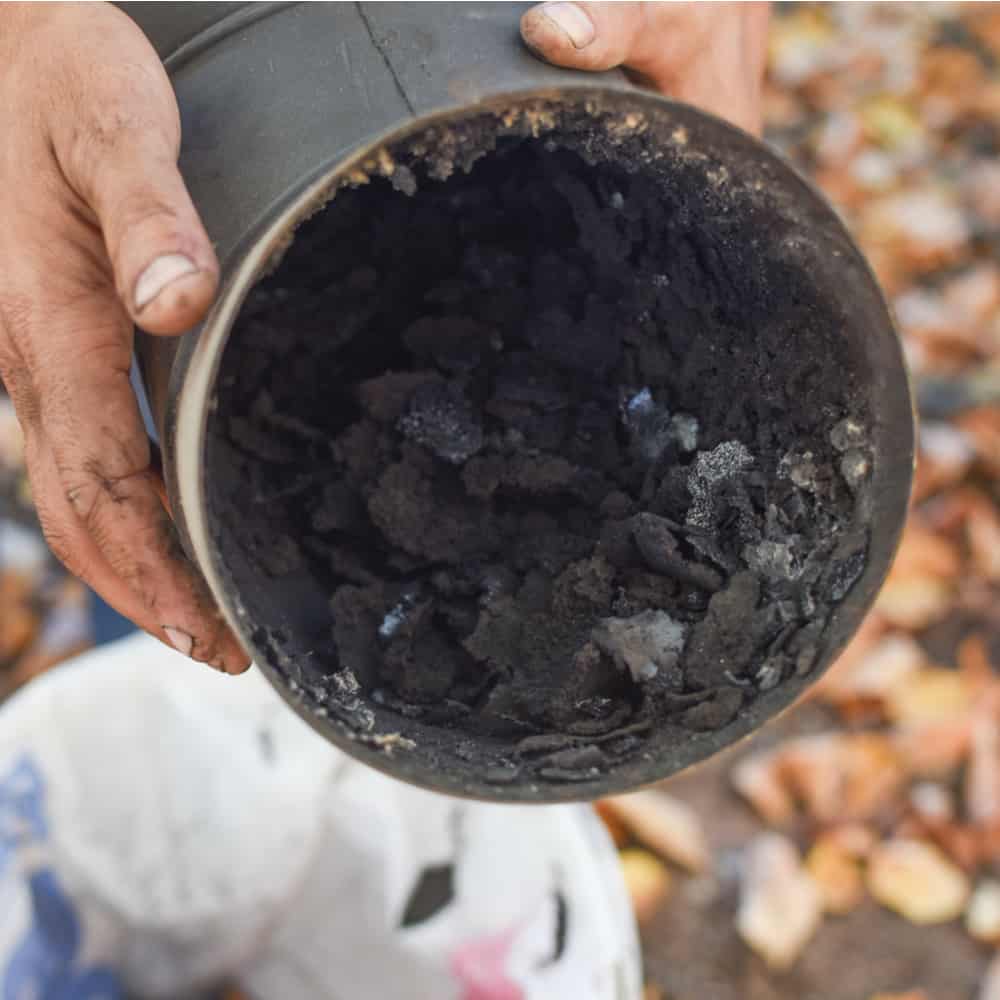 A fireplace is a favorite feature of your Hudson County home. Not only is it a reliable source of heat, but it also provides a welcoming ambiance. There really is nothing better than sitting back and relaxing with a good book or gathering with loved ones in front of a roaring, cozy fire on a chilly night. Yes, there's no doubt that a fireplace is an asset to your home, in order to ensure it stays that way, it needs to be properly maintained, and routine chimney cleaning services are a vital part of that maintenance.
A chimney is a vital component of a fireplace. It exhausts the byproducts of combustion, such as smoke, soot, ash, and excess heat, out of your home. It also feeds fires with the oxygen they need to efficiently burn. With regular use, over time, a chimney can become pretty dirty, as the byproducts of combustion build up along the interior, which will not only reduce the efficiency of your fires, but will also increase the risk of damage to the chimney – and to your home. Each year, countless chimney fires that result in thousands of dollars in damages and worse, physical injuries and even deaths, occur throughout the United States. The leading cause of these fires is a dirty, poorly maintained chimney.
In order to ensure the safety of your Hudson County home and your loved ones, regularly cleaning your chimney is an absolute must. According to experts, this service should be performed by a professional at least once a year. Given how important this chimney cleaning is, you don't want to hire just any chimney sweep; you want to be sure that you hire the most reputable Bayonne, NJ chimney cleaning company possible. In order to do that, it's important to do your due diligence by researching and speaking with a few different companies. While you're researching, here's a look at some key features to be on the lookout for when you're researching companies that specialize in chimney cleaning near you.
Credentials
Credentials are one of the first things to consider when you're researching contractors that offer chimney cleaning near you. A reputable Bayonne, NJ chimney cleaning service will be fully licensed and insured. A license indicates that they have completed the training that's necessary to properly and safely perform the services they offer and that they are up-to-date with the most current chimney cleaning techniques and strategies. They'll also be fully insured. Coverages a reliable chimney cleaner will carry include liability and workers' compensation policies. If the chimney sweep damages your property, their liability insurance will cover the cost of the necessary repairs, and if they suffer an injury, their workers' compensation policy will pay for any medical care that may be needed. Ask to see proof of their license and insurance and check to confirm that both are valid. A credible Bayonne, NJ will be more than happy to share this information with you.
In addition to a valid license and insurance, certifications are another credential to consider. The best contractors that provide chimney cleaning near you will be certified by The Chimney Safety Institute of America (CSIA), one of the most respected nonprofit professional chimney sweep organizations in the country.
Experience
You'll also want to consider the kind of experience a Bayonne, NJ chimney cleaning contractor has. While it's true that a newly established company that offers chimney cleaning near you may be able to provide reliable results, given how crucial these services are, you don't want to leave anything to chance. Cleaning and inspecting a chimney is a complex job and a cumbersome process. The longer the contractor has been in business, the more experience they'll have under their belts, and they'll bring that experience to your project.
Ideally, you should look for an established chimney cleaning and inspection company that has been in service for at least a few years. Not only does a company's longevity indicate more experience, but it also signifies that they offer reliable results because if they didn't, they wouldn't be in business for long.
Reputation
A Bayonne, NJ chimney cleaning company's reputation says a lot about the type of results you can expect to receive, so when you're researching contractors that specialize in chimney cleaning near you, make sure to consider their reputation. Ask people you know – trusted family members, friends, and co-workers, for example – if they have used the company you're considering, and if so, what they have to say about the services they received and the experience they had. Check to see if there are any client testimonials published on their website. Visit review sites, like the Better Business Bureau, Home Advisor, and Angie's List, to see what other Hudson County homeowners have to say about the chimney cleaning contractor you're thinking about using.
Serviced Provided
It goes without saying but it's absolutely worth mentioning that you want to be sure that the Bayonne, NJ chimney cleaning contractor you hire offers the specific services that you require. Not all companies that specialize in chimney cleaning near you provide the same services, so make sure you inquire. For example, if you need your chimney and fireplace cleaned and inspected, but the company you hire only does basic chimney sweeping, they aren't going to do you much good. Prior to hiring a chimney cleaning contractor, always be sure to inquire about the specific services they offer to ensure that they will be able to meet your specific needs.
Looking for Reliable, Efficient, and Affordable Chimney Cleaning Near You?
When you're researching "chimney cleaning near me", make sure you include Apex Air Duct Cleaning and Chimney Services on the list of companies you contact. Offering more than 40 years of experience and a proven track record of success, our full-service, locally owned and operated, fully licensed and insured Bayonne, NJ chimney cleaning company will not only meet your needs, but they'll exceed your expectations. For more information or to request a free consultation, submit a contact form directly through our website or give us a call at 732-314-7171.
---
Some information about Bayonne, NJ
Bayonne is a city in Hudson County, New Jersey, United States. Located in the Gateway Region, Bayonne is situated on a peninsula located between Newark Bay to the west, the Kill Van Kull to the south, and New York Bay to the east. As of the 2010 United States Census, the city's population was 63,024, reflecting an increase of 1,182 (+1.9%) from the 61,842 counted in the 2000 Census, which had in turn increased by 398 (+0.6%) from the 61,444 counted in the 1990 Census. The Census Bureau's Population Estimates Program calculated that the city's population was 64,897 in 2019, ranking the city the 580th-most-populous in the country.
Originally inhabited by Native Americans, the region presently known as Bayonne was claimed by the Netherlands after Henry Hudson explored the Hudson River which is named after him. According to Royden Page Whitcomb's 1904 book, First History of Bayonne, New Jersey, the name Bayonne is speculated to have originated with Bayonne, France, from which Huguenots settled for a year before the founding of New Amsterdam. However, there is no empirical evidence for this notion, which is considered apocryphal. Whitcomb gives more credence to the idea that Erastus Randall, E.C. Bramhall and B.F. Woolsey, who bought the land owned by Jasper and William Cadmus for real estate speculation, named it Bayonne for purposes of real estate speculation, because it was located on the shores of two bays, Newark and New York.
Bayonne became one of the largest centers in the nation for refining crude oil and Standard Oil of New Jersey's facility – which had grown from its original establishment in 1877 – and its 6,000 employees made it the city's largest place of employment. Significant civil unrest arose during the Bayonne refinery strikes of 1915–1916, in which mostly Polish American workers staged labor actions against Standard Oil of New Jersey and Tidewater Petroleum, seeking improved pay and working conditions. Four striking workers were killed when strikebreakers protected by police fired into a crowd.
The Cape Liberty Cruise Port is a cruise ship terminal that is on a 430-acre (170 ha) site that had been originally developed for industrial uses in the 1930s and then taken over by the U.S. government during World War II as the Military Ocean Terminal at Bayonne. Voyager of the Seas, departing from the cruise terminal in 2004, became the first passenger ship to depart from a port in New Jersey in almost 40 years.
Useful links for Bayonne, NJ
Directions from Bayonne, NJ to Apex Air Duct Cleaning and Chimney Services
---
Here are some cleaning-related links: