Please fill out the form and we will get back to you shortly.
Had apex appliance come to my home to service my dryer vent and chimney. There customer service was great and i couldn't be more satisfied, I will definitely be using them in the future!


A true professional company. This company was prompt & efficient, customer service was fantastic would definitely refer to all my friends and family.


They just cleaned my chimney. After some confusion Tom explained the situation to me and everything is great! Came within the time frame and did a good job!


The technician was terrific, he was very friendly and he knew what he was doing. He cleaned my dryer duct and also cleaned my dryer out. there was a ton of lint inside of it. Highly recommend this company.
Good service on my parents home, very professional company . Office staff was great setting up the appointment, technician John was great . Thank you . Will be calling again!


These guys are the BEST! Very friendly and they know what they are doing. They cleaned my dryer vent and the inside of my dryer, can't believe what came out. Very nice company to deal with. This was my second time using them, as my home has to have dryer vents cleaned every 2 years.
Dryer Vent Cleaning in Hopewell, NJ 08525
What To Expect From a Dryer Vent Cleaning Near Me in Hopewell, NJ
Doing laundry is easy, so you often don't think about it. You run the clothes through the washer, put them in the dryer, dry them, clean out the lint trap, then you don't have to worry about it until you add in the next batch of clothes. You go through this process weekly, sometimes daily, so you know what to do. However, you should never get too comfortable when doing anything, and that includes the laundry.
When was the last time you searched for a "dryer vent cleaning near me" to find a professional to care for your dryer vent? Many people don't think about their dryer vent. After all, they clean out their lint trap after each load of laundry they do in their Mercer County home. That's enough, right?
Unfortunately, ignoring your dryer vent can have dangerous consequences. But when do you need a dryer vent cleaning in Hopewell, NJ, and what should you expect? Below, Apex Air Duct Cleaning and Chimney Services has created a guide to vent cleaning. You'll learn why you need to clean your dryer vents, when, the benefits, the process, and how you can clean them. Keep reading below to learn more about this essential chore.
Why Do You Need a Dryer Vent Cleaning?
If you've never had dryer vent cleaning done in Mercer County, you may wonder why you need to clean your dryer vent. Think about how much lint your lint catcher sees with each wash. Now, consider how much your dryer vent must catch. If you fail to clean it, that lint can build up in your vent.
That may not seem like a problem at first, but lint is flammable. When you let the lint clutter, you can risk a fire starting in your dryer vent. This is because lint isn't the only thing that goes through the vent; moisture and hot air also go through it. Nobody wants to lose their home, especially to a preventable house fire.
Fires aren't the only safety hazard posed by uncleaned dryer vents. As we mentioned, moisture also leaves the dryer and goes through the dryer vent. Therefore, mold can grow inside the vent. Also, clogged vents can keep other things from going through, such as carbon monoxide. This can cause the gas to stay in your Hopewell, NJ home, potentially causing carbon monoxide poisoning.
When a dirty dryer vent can cause so many issues in your home, you need to take care of it and clean it properly.
Signs It Needs Cleaning
However, when do you need to go online and search, "Find a dryer vent cleaning near me?" There are some tell-tale signs that you need to clean your dryer vents. For one, you'll know you need to clean your vents if it takes a long time or several runs for your clothes to dry. This could signify that you have a lint blockage that keeps your dryer from working properly.
Also, you know you need to clean your dryer vent if your clothes smell musty after coming out of the dryer. Excess lint in your lint trap can also signify that you need a dryer vent cleaning. Finally, if your dryer or clothes feel unusually hot, call Apex Air Duct Cleaning and Chimney Services immediately.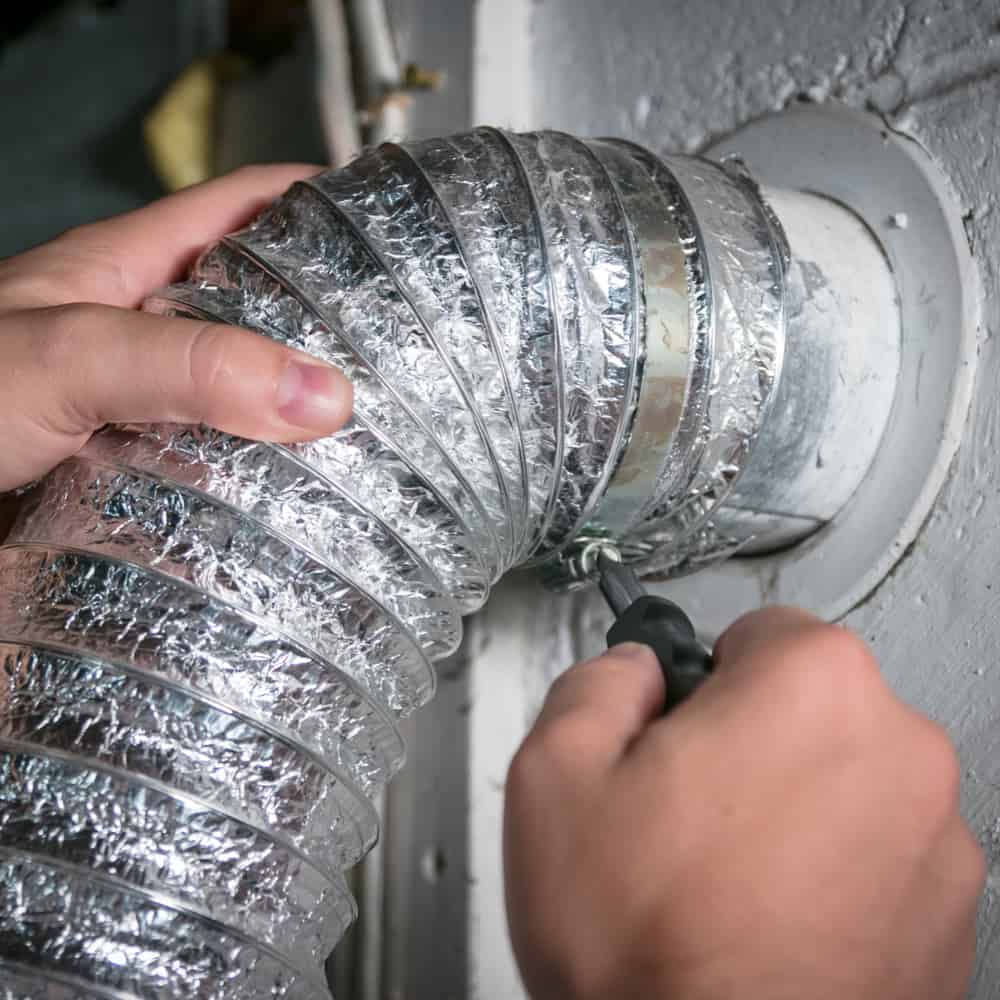 The Benefits
There are many benefits other than safety that you can reap when you turn to a professional for a dryer vent cleaning in Hopewell, NJ. A clean dryer will always work better than a dirty one. Therefore, it won't take as long to dry your clothes, your dryer will last for longer, and you can conserve energy. When your dryer doesn't work at full capacity, it takes more energy to do one load of laundry. Therefore, cleaning your vent can save you energy and money.
You can see many benefits immediately when you choose to get a dryer vent cleaning done in Mercer County.
Can You Do It Yourself?
Do you need to hire a professional dryer vent cleaner, or can you do the job yourself? Yes, you can clean your Hopewell, NJ dryer vent. In fact, you should inspect it often and clean it out whenever you notice a buildup forming.
However, there are some times where you need to hire professionals.
Why You Should Hire Professional Dryer Vent Cleaners
When do you need to turn to professional dryer vent cleaners, like Apex Air Duct Cleaning and Chimney Services? Imagine you have an issue with your car. There are some problems, like needing a tire changed, that you can do on your own. However, if you don't have thorough knowledge or education, you can't perform more complex tasks. The same goes for your dryer vent.
When you choose a professional dryer vent cleaning company in Mercer County, you ensure they do the job right. They know what to look for, and they have all the tools they need. When lint buildup is so dangerous, you don't want to mess around and do the job yourself.
The Process
Once you call the professionals, though, what do they do? The dryer vent cleaning professional will first locate your dryer cap. In some cases, this can be in your ceiling or on your roof. They will then insert a vacuum to suction out the lint. They will also use a brush to remove any stuck-on lint.
Once they finish cleaning your vent, they will have to inspect it. Lint can buildup and hide in bends, so they need to thoroughly inspect the dryer vent to ensure they don't leave any lint behind. In some cases, they may need to run diagnostic testing. With this testing, they can determine how much pressure passes through the vent and how much gas enters your home.
While you can do some of this scrapping on your own, professional dryer vent cleaners may have to climb onto your roof to clean out any blockages. Therefore, you want to leave that job to the pros.
How Often Should You Have It Cleaned?
So how often should you have it cleaned? How often you need to clean your dryer vent depends on many factors, such as how often you use your dryer and the size of your household. Typically, you should clean it at least once a year. However, you should call someone immediately if you notice any of the signs of a blockage that we mentioned above.
Have you opened Google lately, searching for "a dryer vent cleaning near me?" It's time to put down your computer and pick up your phone. Call Apex Air Duct Cleaning and Chimney Services at 732-314-7171 today. We will keep your home safe, so all you have to worry about is getting your laundry done on time.
---
Some information about Hopewell, NJ
Hopewell is a borough in Mercer County, New Jersey, United States. This historical settlement is located within the heart of the Raritan Valley region. As of the 2010 United States Census, the borough's population was 1,922, reflecting a decline of 113 (-5.6%) from the 2,035 counted in the 2000 Census, which had in turn increased by 67 (+3.4%) from the 1,968 counted in the 1990 Census.
The Lenape Native Americans were the original inhabitants of the area that would later become Hopewell. The first Colonial influence in Hopewell by European settlers was the purchase of a 30,000-acre (120 km2) tract of land by Daniel Coxe a Royal British governor of West Jersey, in the latter half of the 17th century. All land in Hopewell can be traced back to this purchase. In 1691 Coxe, transferred his land to a company called The West Jersey Society of England, who intended to sell the land. The society appointed an agent, Thomas Revell, to preside over the land and sell it to prospective buyers. Revell then attracted settlers from New England, Long Island, and New Jersey falsely claiming that the land was fertile, and tame. However, the families that arrived in Hopewell only found vast stretches of wilderness. The first settler in Hopewell Valley was Thomas Tindall who on November 10, 1699, bought a 300-acre (1.2 km2) tract of land from The West Jersey Society of England through Revell, for 'ten pounds per hundred acres'. Other early settlers in Hopewell are said to be the Stouts, who immigrated from Holmdel to Hopewell in 1706, including Jonathan Stout, who had hunted in the area together with the Lenape. Perhaps the first conflict between colonists in Hopewell was the dispute between Revell and the early inhabitants of Hopewell, who realized that their deeds were worthless due to Revell's false claims. Fifty settlers then organized a class action lawsuit against Revell and the West Jersey Society. A lengthy trial was held in Burlington and the court ultimately ruled against the settlers, who were forced to repurchase their land or relocate. Many settlers weren't able to repay and moved north into North Jersey and New York.
On April 23, 1715, the settlers who stayed in Hopewell, most notably the Stout family, organized the Old School Baptist Church, and what is now known as Hopewell was then referred to as 'Baptist Meetinghouse'. One of the most valued members of the meeting house was Declaration of Independence signer John Hart who in 1740 purchased 193 acres (0.78 km2) of land in the north of current day Hopewell, and in 1747 as a sign of Hart's devotion to the Church, donated a plot of his land to the Baptists. The next year the Baptists made good use of this land and in 1748 erected their Old School Baptist Church meeting house on West Broad Street. The meeting house brought in Baptists from miles around to Hopewell and encouraged Hopewell's early growth.
Numerous lumber mills were established in and around Hopewell at this time to process the lumber that was generated from the clearing of forests for farms.
Useful links for Hopewell, NJ
Directions from Hopewell, NJ to Apex Air Duct Cleaning and Chimney Services
---
Here are some cleaning-related links: